Posts tagged
Bryan Coyle
2013 sees the return of The Russ Manning Promising Newcomer Award – and it gives me great pleasure to announce that our very own Bryan Coyle has been nominated for his work on Babble!
The Russ Manning Award – named for the artist Russ Manning, best known for his work on the Tarzan and Star Wars newspaper strips and Magnus, Robot Fighter – has been given out annually at the San Diego Comic-Con since 1982. It's presented to a comics artist who, early in his or her career, shows a superior knowledge and ability in the art of creating comics – which, if anyone's read Bryan's work on Babble and beyond, will know that's something he certainly has in abundance!
The award recipient will be announced during the Will Eisner Comic Industry Awards at San Diego Comic-Con on Friday, July 19 2013, and I hope you'll join myself, and the guys at Com.X, in wishing Bryan the very best of luck!
You can find Bryan's blog here and follow him on Twitter @BrigonChomhgail.
EDIT:
A little shameless, but the news also made it to The Comics Reporter, with a pretty cool little surprise: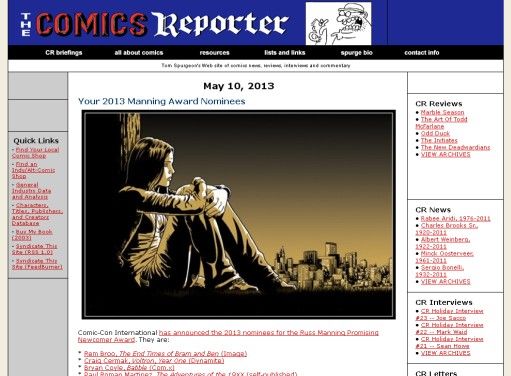 This week, we take on a 2000AD-esque flavour as we introduce Search/Destroy agent and stalwart of the 2000AD fanzines, Whistler!
Whistler was originally created by comics making machine Bolt-01 (a.k.a. artist/letter and art editor/publisher of FutureQuake Publications Dave Evans) for Dogbreath, the Strontium Dog fanzine. As all good characters seem to do, Whistler has pretty much taken on a life of his own and made  cameos in a multitude of Dogbreath strips – and even managed to find his way into the pages of 2000AD, courtesy of Carlos Ezquerra!
Bolt-01 has been a great supporter of our small press work down the years (and was the man responsible for first pairing us up oh-so many moons ago!), so it was a no-brainer to ask him to get involved in this. Thankfully, he managed to take some time out from creating some of the best small press anthologies money can buy to provide us with this weeks image.
For more information about FutureQuake Publications, be sure and check out their website and their shop; for news and updates, check out the FQP Blog. For news and updates on the 2000AD fanzines Zarjaz and Dogbreath (published by FQP), check out The Quaequam Blog.
Like a lot of things with Babble, this seemed to start with a simple bit of miscommunication…
While we were getting our SDCC promo material together, we mistakenly believed that Andi Ewington's BlueSpear
(the first spin-off from the acclaimed Forty-Five) was also getting released at the con, and a silly idea took root: what if we were to do a "parody" of our SDCC postcard, but with Blue Spear replacing Carrie? Both books were due to be published by Com.X, so it could make for a bit of fun cross-promotion.
Even though Blue Spear wasn't actually due to get its release at SDCC, Andi still agreed to let us use the character, but the idea began to evolve…
One of the key points of Babble is that everyone can be brought together under a single idea – in this case a universal language – but if we could unite Babble and Blue Spear in a similar fashion, could we apply it to other comic characters, too? Could we actually bring together more creator owned characters, from different publishers, in the same way? It's often been said that the comics scene is a close knit community, but could we really convince people to take some time out and have some fun with this?
So, we put the idea to some friends and collaborators – not just from the UK, but around the world – to see what would happen…
The response was absolutely unbelievable. People really took to the idea and we found ourselves flooded with a stunning array of artwork from some of the finest small press and indie creators from across the globe, all of them bringing their own characters to the table to join the fun.
Tomorrow, we'll reveal the first image from this, Blue Spear, and then, through September and October, we'll be unveiling a new character image every Wednesday. A gallery has been set up for all of the pictures we've received, so if you miss any of them, you can find them there. Hopefully, you'll enjoy what we've got lined up, and possibly even discover some new creators and titles in the process.
Who did we manage to recruit? Well, you'll have to come back and see won't you?
To kick everything off, though, here's the first image, our very own Carrie Hartnoll:
Be sure and come back tomorrow to see Blue Spear in all his glory…