4
Last week, we were invited to talk to Alex Fitch for his Panel Borders show, being broadcast on Resonance FM. The themed show was about the legacy of 2000AD, but we managed to squeeze in some talk about Babble as well as our work for Zarjaz.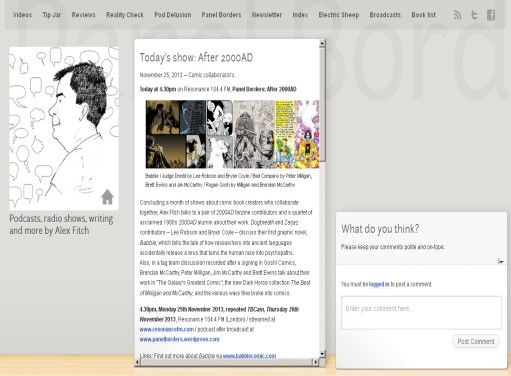 Anyway, here's the info for the episode:
Panel Borders: The Legacy of 2000AD
Concluding a month of shows about comic book creators who collaborate together, Alex Fitch talks to a pair of 2000AD fanzine contributors and a quartet of acclaimed 1980s 2000AD alumni about their work. Dogbreath and Zarjaz contributors – Lee Robson and Bryan Coyle – discuss their first graphic novel, Babble, which tells the tale of how researchers into ancient languages accidentally release a virus that turns the human race into psychopaths.
Also, in a tag team discussion recorded after a signing in Gosh! Comics, Brendan McCarthy, Peter Milligan, Jim McCarthy and Brett Ewins talk about their work in "The Galaxy's Greatest Comic", the new Dark Horse collection The Best of Milligan and McCarthy, and the various ways they broke into comics.
The show will be broadcast at 4.30pm, Monday 25th November, repeated TBCam Thursday 28th November, Resonance 104.4 FM (London) / streamed at www.resonancefm.com / extended podcast at www.panelborders.wordpress.com
Update: The podcast is available now, directly from the Panel Borders site or from the Resonance FM archives.